Driving your campervan will be different from driving your family car or truck. Your campervan is large and heavy. You may have to adjust or learn new driving techniques to safely operate your campervan.
Downhill driving puts extra strain on many drivetrain components of your campervan. The brakes are easily overloaded and overheated when used for downhill slowing. Brake fade will occur if the brakes overheat.
MANEUVERING IN TRAFFIC
Be cautious when maneuvering to allow for the length and width of the vehicle. Always allow room to corner and change lanes. Your vehicle's side view mirrors and rear-view camera monitor (if equipped) will help you keep aware of your vehicle's position, the position of other vehicles, and/or obstructions near your campervan. You must monitor them constantly while you are driving. Become familiar with the operation of the side mirrors and learn to use them to view objects and the road beside and behind the campervan.
Remember that your campervan is heavier than a car, making it less maneuverable and harder to stop. Also, because of its greater side surface area due to the increased height, it is more easily affected by cross winds. Avoid driving in high cross-winds. Allow extra distances for passing and stopping.
Mountain driving or desert temperatures can put extreme demands on drive train components. Under extreme heat conditions you may need to turn off the dash air conditioner to improve engine and transmission cooling.
Be aware of the extra height of your campervan. Check for low hanging tree branches or other obstructions whenever you drive or park. Avoid low overhangs when pulling in for service. Always check overhead clearances of overpasses and bridges.
PARKING
When parking parallel to a curb, be sure to allow for poles or obstructions as the front and rear portions of the campervan swing wider than an automobile. When parking on an incline, turn the front wheels into the curb in the direction of the roll to aid the parking brake. When parking, always shift the transmission to P and apply the parking brake.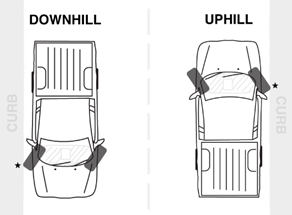 If you can't avoid operating, parking or idling your vehicle off-road:
• Be aware that combustible materials could catch fire from the vehicle's hot exhaust system.
• Avoid driving your vehicle through or over combustible materials such as leaves, grass, vegetation or stubble high enough to touch, catch or collect on its hot exhaust system.
• Parking or idling should be done only in an area where there are no combustible materials under the vehicle