BATTERY CHARGING
The chassis battery is charged when the vehicle engine is running. This allows the alternator to charge the battery. Be sure not to leave the vehicle's lights, radio, or any other components on when the vehicle is not running as it will drain this battery.
There are two methods of charging the auxiliary (house) battery:
1. DC Converter: The DC power converter will charge the house battery when plugged into 120-volt AC service. Common sources of 120v service are generators or "shore power" provided by a campground. In order for the 120v AC service to charge the auxiliary battery, the main breaker and the 15-amp converter breaker must be in the ON position.
2. Solar: Ensure mode is set to FLOODED (PRESS B TO CHANGE). Your campervan is equipped with a 170-watt solar panel or 190-watt solar panel on some models. The solar panel is meant to trickle charge the battery when camping "off-grid" and not connected to shore power. The solar panel will automatically charge the battery when exposed to sunlight on a clear day. The solar panel is not meant to "run" any appliances.
SOLAR CONTROLLER
The LCD digital display shows solar array charge current, system battery voltage and battery capacity. The solar controller will regulate the charging of the battery. Once the battery is at 100%, the solar controller will prevent overcharging by limiting the current flowing into the batteries from your solar panel.
If the LCD digital display is blank, the auxiliary battery does not hold sufficient charge for the display to work, plug the vehicle into shore power to recharge the auxiliary battery.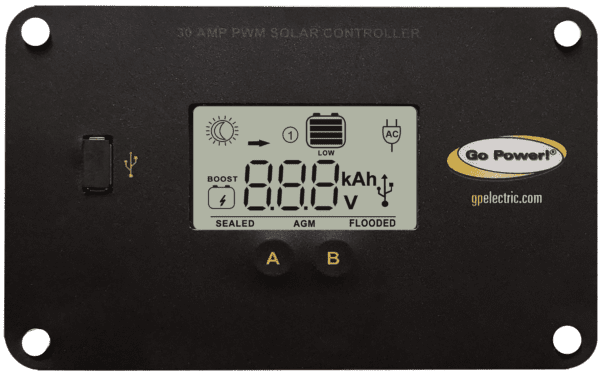 CHARGING PERSONAL ELECTRONICS
Charging cell phones or other personal electronics can be done using the USB ports in the 120v outlets. However, you must be plugged into shore power for these outlets to work. You may also use the USB port located on the solar controller as this is connected directly to the house battery providing constant 12v power.