INTERIOR STORAGE
Your campervan was designed to provide the maximum amount of storage possible without sacrificing comfortability.
BENCH STORAGE
Both the right and left side bench have three lids that you can raise to store your belongings. This storage is the best place for heavy items or items that are prone to shift during travel. The storage compartment closest to the front of the van on the driver's side is the electrical compartment. DO NOT access or use this compartment for storage.
UNDER SINK STORAGE
There are two shelves installed under the sink for storage. This storage can be accessed by pressing in the button latch so it pops out. The latch can now be used as a handle to open the cabinet doors. Always ensure the latch is closed (button pushed in) when travelling.
OVER-CAB STORAGE
The storage space above the cab offers ample amount of storage space. Be sure not to place heavy items or items that shift during travel.
REAR BUNK PANEL STORAGE
The rear bunk panel stores the upper bunk panels during travel but also provides additional storage for belongings. Do not place heavy items or items that shift during travel in this area. Always be sure to latch the cargo barrier buckles to prevent items from falling off during travel.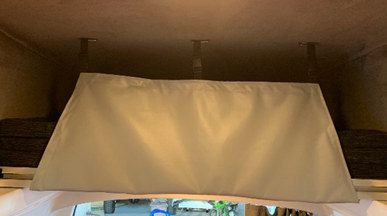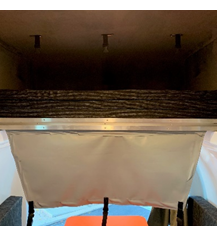 DINETTE CONVERSION
To convert dinette into a bed:
1. Lift table to disengage from pedestal tube.
2. Remove tubes from floor bases and store.
3. Lower tabletop to bench frame.
4. Place (3) lower bed inserts onto bench frame.
5. Place both bench seat cushions and bench backrest cushions onto the bed base to complete the bed (bed inserts and table can go in any order to complete the bed base).