REFRIGERATOR
The refrigerator is a two-phase refrigerator. This means it will run off the 12v house battery and run off the 120v service when plugged into shore power. The refrigerator will automatically switch to 120v when plugged in to shore power. The main breaker and refrigerator breaker will need to be in the ON position.
Before operating the refrigerator when the campervan is parked, make sure it is level. If it is not level, the refrigerant will not circulate, cooling action will stop, and the refrigeration system may be damaged.
If you plan to cool food or drinks in high outside temperatures, pre-cool the food, and, if possible. Once the interior of the refrigerator is cool, the refrigeration system will usually maintain this temperature. If the inside of the refrigerator is hot, the food is not pre-cooled, and the outside temperature is high, it will take longer for your food to be cooled.
To turn the refrigerator on, open the door and press and hold the power button for a few seconds. The temperature can also be adjusted from inside the refrigerator. You can turn the refrigerator down when going to sleep to reduce noise.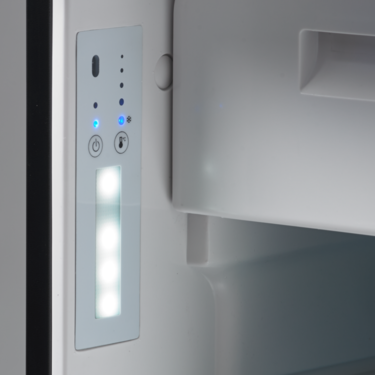 MICROWAVE
The microwave is powered by 120-volt AC power and will only operate when plugged into shore power. A wall receptacle for the microwave is located behind the refrigerator. Ensure the main breaker and the microwave breaker is in the ON position.