Road Safety
We know how daunting it can be driving in a foreign country for the first time. You are driving a vehicle that's not your own, on roads that are not familiar, there are different rules and you might even be driving on the opposite side of the road! That shouldn't deter you from having an amazing adventure, but your safety should always come first. Here are some of our expert tips to keep you safe on your next Australian road trip.
It is important not to underestimate driving times, Australia is a huge country and long drives can be expected travelling between your planned destinations . If you're used to driving in the city, you should take care when driving on the open outback roads. Check the weather conditions before you set off. Drive to the conditions you're in, if it's raining, icy, snowy or windy you'll need to reduce your speed.
In Australia, all motorists drive on the left-hand side of the road.
All road distances are measured in kilometres.
When turning left, give way (yield) to traffic crossing or approaching from your right
When the traffic light is red, you must stop.
Drivers and passengers must wear seat belts at all times, in both front and rear seats.
Do not use your mobile whilst driving. It is dangerous and illegal to do so in Australia.
Make sure that you have plenty of sleep before a long drive. Take regular breaks – one every two hours and when you feel sleepy.
Do not drink alcohol before driving in Australia – drinking and driving laws are strictly enforced.
There are a lot of unsealed/dirt roads in Australia, our vehicles are not built to drive on these roads, so for your own safety, do not drive on them.
Some of Australia's animals are nocturnal and are very active at this time, for your own safety we highly recommend that you do not drive between sunset and sunrise.
Keep Left and Following the Road Rules
In Australia, you should always drive on the left-hand side of the road. If you are not used to this, try practising driving around quiet streets before heading onto busier motorways. Speed limits, the use of seat belts, and other regulations are strictly enforced in Australia and failing to follow these can lead to severe punishments. It is always a good idea to familiarise yourself with Australia's road rules and common street signs before setting off on your trip. The more you understand, the safer and more confident you will be on your road trip.
Driving in Rural and Remote Locations
Australia is a huge country with only a few cities, so on your road trip, you will most likely travel through some remote areas. Driving in the outback or rural Australia requires having awareness of different road conditions and scenarios. For your own safety, you should never risk driving on dirt or unsealed roads, as this is where there is the biggest possibility for rollover accidents or damage to the vehicle. Driving at night, and particularly at dusk and dawn, can be extremely hazardous in Australia, as this is when the most wildlife will be out. Never attempt to swerve your vehicle to avoid an animal as this can result in a far worse accident! Break in a straight line.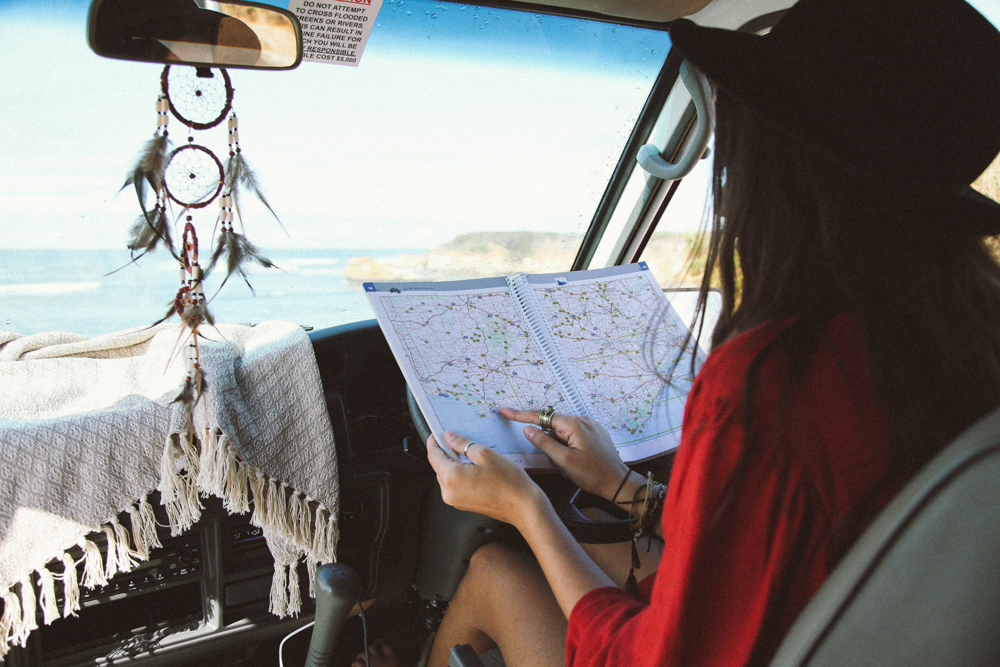 Take Regular Breaks
When driving long distances, it is extremely important to take regular breaks to rest. Make sure you plan your trip well to include several rest stops. There are rest areas located roughly every 100km along main highways so that you can stop and take a break from driving. As we say in Australia – stop, revive, survive!
Alcohol Limit
You should never drink alcohol or be under the influence of alcohol or drugs while driving. In Australia, there are very strict regulations regarding this. Even if you feel okay to drive, it is never a safe thing to do and punishments are very severe.
Use of Mobile Phones
The use of mobile phones or other portable electronic devices while driving in Australia is strictly prohibited. You must not talk on the phone, send a text message, or even touch your phone while you are being the wheel. Doing so can lead to heavy fines and losing the ability to drive in Australia.
Weather Conditions
Australia is a land of many extreme weather conditions, which at times are very unpredictable. Cyclones, bush fires, heavy storms, and flooding are common in certain locations and certain times of the year. Always check local weather conditions before heading off on your journey and avoid driving during extreme weather conditions.
Should you have any further concerns, you can ask our friendly staff for more advice when you pick up your vehicle from Travellers Autobarn. The better the plan, the safer and more memorable your Aussie road trip will be.