Road Safety
Self-driving holidays are one of the most relaxing ways of enjoying New Zealand's landscape. Many of our roads are scenic and traffic is low compared to other countries. It's important that your road trip in New Zealand is both a safe and enjoyable one. Before setting off you should visit and go through the Drive Safe website www.drivesafe.org.nz to ensure that you feel comfortable with New Zealand road rules. Before setting off you should test yourself on www.drivingtests.co.nz to ensure that you understand all the different road signs and rules.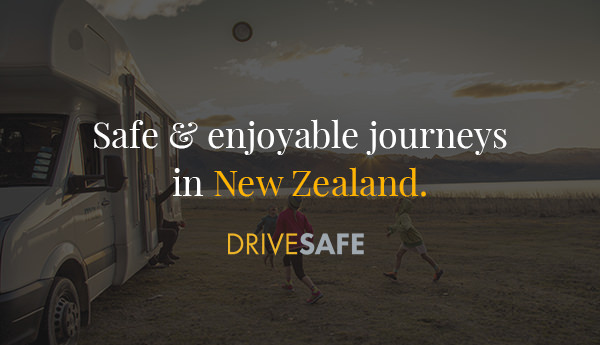 It is important not to underestimate driving times. Although distances may seem short, our roads often include hilly or winding terrain, which slow down your journey. If you're used to driving in the city, you should take care when driving on the open country roads. Check the weather conditions before you set off. In New Zealand the roads can get icy or covered in snow at certain times of the year where you may require snow chains on your wheels. Drive to the conditions you're in, if it's raining, icy, snowy or windy you'll need to reduce your speed. In winter be especially careful in the morning as ice that has set from the night before has not melted yet.
In New Zealand, all motorists drive on the left-hand side of the road.
All road distances are measured in kilometres.
When turning left, give way (yield) to traffic crossing or approaching from your right.
When the traffic light is red, you must stop. There is no left turn rule as in North America.
The speed limit on the open road is 100kph (approx 60mph). In urban areas the speed limit is 50kph. Keep an eye on the speed limit signs.
Drivers and passengers must wear seat belts at all times, in both front and rear seats
Do not use your mobile whilst driving. It is dangerous and illegal to do so in New Zealand
Make sure that you have plenty of sleep before a long drive. Take regular breaks – one every two hours and when you feel sleepy
Do not drink alcohol before driving in New Zealand – drinking and driving laws are strictly enforced
Watch this Video....
Driving in New Zealand (with subtitles)
Driving in New Zealand (in French)
Driving in New Zealand (in German)
International Driving Licences and Permits
Ensure that your driving licence is valid in New Zealand. International drivers' licenses and any current (and full) English language licenses are accepted. If you're licence isn't in English and you don't have an international licence, then you will need to get your existing one translated. Visit http://www.nzta.govt.nz/driver-licences/new-residents-and-visitors/approved-translators/ to find out the New Zealand governments requirements for driver's licence translation. Transnational offer a NZ certified license translation service. You can contact them on www.transnational-ltd.co.nz and they will arrange to get your license translated and sent back to you via email.
Driving Routes
To find a driving route for your New Zealand holiday, please visit this website. Maybe you know where you want to go, maybe you don't. In either case, your best-fit driving route is only a few clicks away.